DESCRIPTION
COLOR SYSTEM
HOW TO USE

What it is
This product expresses dramatically long lashes. The feather-light fiber lengthens the eyelashes, and the Curl 24-HR technology keeps curled-up lashes stay fresh for 24 hours.
---
How to apply

1. Coat the lashes starting from the root.
2. Reapply the fiber on the tip of the eyelashes as if layering on the lashes little by little to make your own lashes long like doll lashes.
---
Caution
1. Use only as directed.
2. Avoid storing in high/low temperatures or in areas exposed to direct sunlight.
3. Stop using if it causes any allergic reaction or any problems arising.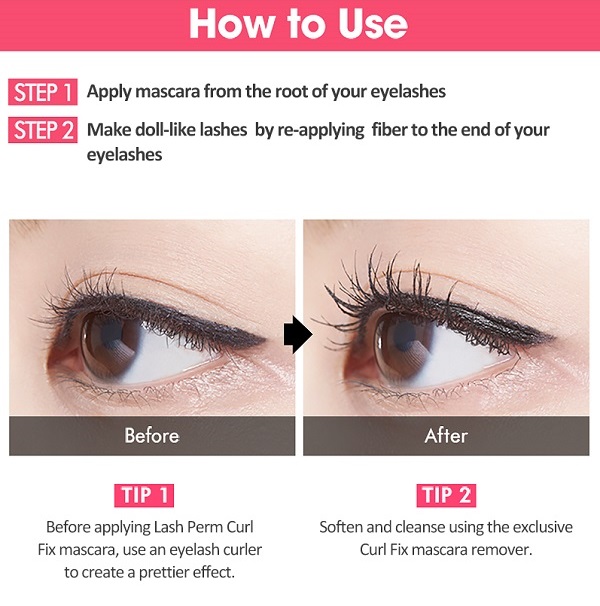 Details
| | |
| --- | --- |
| Weight (g) | 28 |
| Size | 8g |
| INGREDIENTS | |
Customer Reviews
LOCATION:

United States

SKIN TYPE:

EYES COLOR:

SKIN TONE:

AGES:

Smudges and MUST use Etude remover, otherwise it does not come off

LOCATION:

Brazil

SKIN TYPE:

Normal

EYES COLOR:

Brown

SKIN TONE:

Medium

AGES:

19 ~ 24

I realized the purchase initially because of the brush that is thin and not too big but I was surprised by the efficiency, it really lengthens the eyelashes and leaves them curved all day! I would definitely buy it again! Recommend!!

LOCATION:

New Zealand

SKIN TYPE:

Combination

EYES COLOR:

Brown

SKIN TONE:

Deep

AGES:

19 ~ 24

Ive always struggled finding mascaras that would hold a curl as mine tend to always just turn to be straight again This mascara is now one of my favourites as it not only can hold the curl but also doesnt clump up my lashes and the wand is easier to coat the bottom lashes as well Definitely a keeper

LOCATION:

United States

SKIN TYPE:

Combination

EYES COLOR:

Blue

SKIN TONE:

Fair

AGES:

19 ~ 24

After buying the original Curl Fix a couple times a decided to give this one a try what I like about this mascara is that it does increase the length of your lashes quite a bit and that it is very waterproof but it does not make your eyelashes look clumpy or weighed down which is really nice Overall this is a great mascara but I have to say that I am not the biggest fan of the brush I prefer the original Curl Fix brush to this one and sometimes the fibers in the mascara would fall off my eyelashes onto my cheeks during the day but those are my only complaints I would recommend this to a person who is looking for a mascara that will give them a great lengthening effect and last all day

LOCATION:

SKIN TYPE:

EYES COLOR:

SKIN TONE:

AGES:

So far this mascara works better for me than any other that I've bought. Believe me, I must have 10 different brands in the drawer. This mascara does everything I want it to do---curl, separate, no clumps, last all day and removes easily. Great product!!


LOCATION:

SKIN TYPE:

EYES COLOR:

SKIN TONE:

AGES:

I purchased this mascara on a whim, and absolutely love it. I have pretty stick straight eyelashes and even using an eyelash curler, every other mascara I've tried it weighs my eyelashes down, gets super clumpy, and doesn't stay curled. I curled my eyelashes before applying this product and then applied a first coat and right away I could tell that this product was awesome. My eyelashes stayed curled after the first application, I applied a second and they still stayed. The fibers within this mascara really does do wonders and I will be recommending this to my friends and family. LOVE LOVE the way my eyelashes are now with this product and it makes getting ready so much easier now that I don't have to try and re-curl my lashes after mascara application. HIGHLY RECOMMEND.