As low as
US $10.92
Regular Price
US $15.60
Better Lips-Talk
Lips-Talk gives long-lasting vivid color and hydro shine to the lips.

- My Favorite Color That Actually Looks Better on Me better Color!
You can easily pick your favorite color in a various range of palette!
10 shades of Better Color with neutral/muted colors that match well on any complexion.

- Texture That Clearly Applies with High Pigmentation Better Texture!
A newly introduced texture with brighter and more vivid color particles smoothly glides on the lips without patching,
which is done by reducing the size of pigment through color pigment milling process.

- The Shiniest Lips You Could Ever Have Better Lips!
High-shine and transparent layer prevents your lips from drying out, keeps them moisturized and makes you have comfortable and shiny lips throughout the day.

- The Most Wanted Case Design Better Design!
Simply designed magnetic cap stays more secure and allows you to apply more conveniently.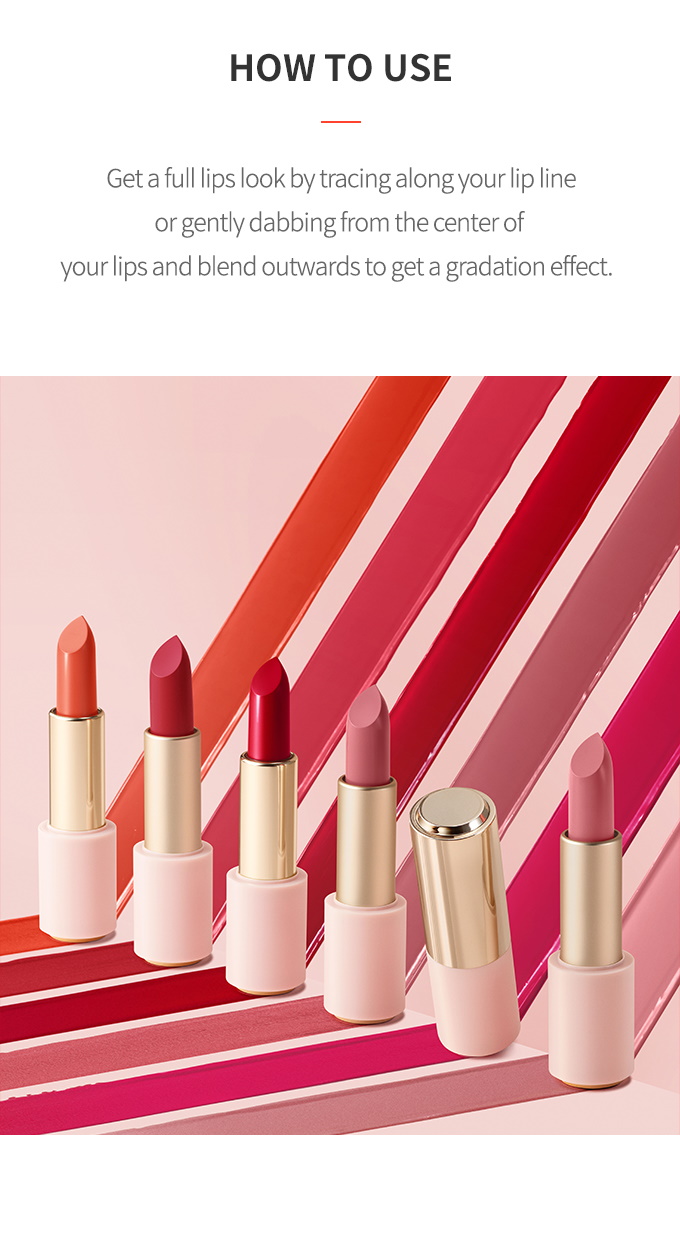 More Information
Ingredients

#OR205 Dried Orange Tea : CETYL ETHYLHEXANOATE, PHYTOSTERYL ISOSTEARYL DIMER DILINOLEATE, HYDROGENATED POLYISOBUTENE, TRIDECYL TRIMELLITATE, BIS-DIGLYCERYL POLYACYLADIPATE-2, POLYGLYCERYL-2 TRIISOSTEARATE, SYNTHETIC WAX, MICROCRYSTALLINE WAX / CERA, MICROCRISTALLINA / CIRE MICROCRISTALLINE, C12-15 ALKYL BENZOATE, POLYGLYCERYL-2 DIISOSTEARATE, TITANIUM DIOXIDE (CI 77891), YELLOW 6 LAKE (CI 15985), RED 22 LAKE (CI 45380), ETHYLENE/PROPYLENE COPOLYMER, IRON OXIDES (CI 77491), DISTEARDIMONIUM HECTORITE, ALUMINA, RED 7 LAKE (CI 15850), FRAGRANCE / PARFUM, C12-15 ALCOHOLS, POLYHYDROXYSTEARIC ACID, CALCIUM ALUMINUM BOROSILICATE, LINALOOL, BHT

#OR206 Soft Persimmon : CETYL ETHYLHEXANOATE, PHYTOSTERYL ISOSTEARYL DIMER DILINOLEATE, POLYGLYCERYL-2 TRIISOSTEARATE, HYDROGENATED POLYISOBUTENE, TRIDECYL TRIMELLITATE, BIS-DIGLYCERYL POLYACYLADIPATE-2, SYNTHETIC WAX, MICROCRYSTALLINE WAX / CERA, MICROCRISTALLINA / CIRE MICROCRISTALLINE, C12-15 ALKYL BENZOATE, YELLOW 6 LAKE (CI 15985), RED 6 (CI 15850), RED 7 LAKE (CI, 15850), ETHYLENE/PROPYLENE COPOLYMER, TITANIUM DIOXIDE (CI 77891), RED 22 LAKE (CI 45380), DISTEARDIMONIUM HECTORITE, POLYGLYCERYL-2 DIISOSTEARATE, FRAGRANCE / PARFUM, C12-15 ALCOHOLS, POLYHYDROXYSTEARIC ACID, CALCIUM ALUMINUM BOROSILICATE, LINALOOL, BHT

#OR204 Burnt Carrot : CETYL ETHYLHEXANOATE, POLYGLYCERYL-2 TRIISOSTEARATE, PHYTOSTERYL ISOSTEARYL DIMER DILINOLEATE, HYDROGENATED POLYISOBUTENE, TRIDECYL TRIMELLITATE, BIS-DIGLYCERYL POLYACYLADIPATE-2, RED 6 (CI 15850), SYNTHETIC WAX, MICROCRYSTALLINE WAX / CERA MICROCRISTALLINA / CIRE MICROCRISTALLINE, C12-15 ALKYL BENZOATE, RED 7 LAKE (CI 15850), ETHYLENE/PROPYLENE COPOLYMER, IRON OXIDES (CI 77491), DISTEARDIMONIUM HECTORITE, POLYGLYCERYL-2 DIISOSTEARATE, SYNTHETIC FLUORPHLOGOPITE, FRAGRANCE / PARFUM, TITANIUM, DIOXIDE (CI 77891), C12-15 ALCOHOLS, CALCIUM ALUMINUM BOROSILICATE, LINALOOL, TIN OXIDE, BHT

#RD301 Thank U Tangmo Pan : POLYGLYCERYL-2 TRIISOSTEARATE, CETYL ETHYLHEXANOATE, PHYTOSTERYL ISOSTEARYL DIMER DILINOLEATE, HYDROGENATED POLYISOBUTENE, TRIDECYL TRIMELLITATE, BIS-DIGLYCERYL POLYACYLADIPATE-2, SYNTHETIC WAX, RED 22 LAKE (CI 45380), MICROCRYSTALLINE WAX / CERA MICROCRISTALLINA / CIRE MICROCRISTALLINE, C12-15 ALKYL BENZOATE, YELLOW 6 LAKE (CI 15985), ETHYLENE/PROPYLENE COPOLYMER, RED 7 LAKE (CI 15850), TITANIUM DIOXIDE (CI 77891), DISTEARDIMONIUM HECTORITE, POLYGLYCERYL-2 DIISOSTEARATE, FRAGRANCE / PARFUM, C12-15 ALCOHOLS, RED 6 (CI 15850), CALCIUM ALUMINUM BOROSILICATE, POLYHYDROXYSTEARIC ACID, LINALOOL, BHT

#RD302 I'll Ketch up : CETYL ETHYLHEXANOATE, POLYGLYCERYL-2 TRIISOSTEARATE, PHYTOSTERYL ISOSTEARYL DIMER DILINOLEATE, HYDROGENATED, POLYISOBUTENE, TRIDECYL TRIMELLITATE, BIS-DIGLYCERYL POLYACYLADIPATE-2, SYNTHETIC WAX, YELLOW 6 LAKE (CI 15985),, MICROCRYSTALLINE WAX / CERA MICROCRISTALLINA / CIRE MICROCRISTALLINE, C12-15 ALKYL BENZOATE, RED 7 LAKE (CI 15850),, ETHYLENE/PROPYLENE COPOLYMER, DISTEARDIMONIUM HECTORITE, RED 7 (CI 15850), IRON OXIDES (CI 77491), POLYGLYCERYL-2 DIISOSTEARATE, FRAGRANCE / PARFUM,, C12-15 ALCOHOLS, BLUE 1 LAKE (CI 42090), CALCIUM ALUMINUM BOROSILICATE, BHT

#BR401 Wishy Washy Red : CETYL ETHYLHEXANOATE, PHYTOSTERYL ISOSTEARYL DIMER DILINOLEATE, HYDROGENATED POLYISOBUTENE, POLYGLYCERYL-2, TRIISOSTEARATE, TRIDECYL TRIMELLITATE, BIS-DIGLYCERYL POLYACYLADIPATE-2, SYNTHETIC WAX, MICROCRYSTALLINE WAX / CERA, MICROCRISTALLINA / CIRE MICROCRISTALLINE, C12-15 ALKYL BENZOATE, POLYGLYCERYL-2 DIISOSTEARATE, TITANIUM DIOXIDE (CI, 77891), RED 6 (CI 15850), YELLOW 5 LAKE (CI 19140), IRON OXIDES (CI 77491), ETHYLENE/PROPYLENE COPOLYMER, DISTEARDIMONIUM HECTORITE, RED 7 LAKE (CI 15850), BLUE 1 LAKE (CI 42090), FRAGRANCE / PARFUM, C12-15 ALCOHOLS,, POLYHYDROXYSTEARIC ACID, CALCIUM ALUMINUM BOROSILICATE, BHT

#BR402 Coffee to Go : CETYL ETHYLHEXANOATE, PHYTOSTERYL ISOSTEARYL DIMER DILINOLEATE, IRON OXIDES (CI 77491), HYDROGENATED POLYISOBUTENE,, TRIDECYL TRIMELLITATE, BIS-DIGLYCERYL POLYACYLADIPATE-2, SYNTHETIC WAX, MICROCRYSTALLINE WAX / CERA MICROCRISTALLINA /, CIRE MICROCRISTALLINE, C12-15 ALKYL BENZOATE, POLYGLYCERYL-2 DIISOSTEARATE, POLYGLYCERYL-2 TRIISOSTEARATE, RED 7 LAKE, (CI 15850), ETHYLENE/PROPYLENE COPOLYMER, CALCIUM ALUMINUM BOROSILICATE, TITANIUM DIOXIDE (CI 77891), DISTEARDIMONIUM HECTORITE, SYNTHETIC FLUORPHLOGOPITE, BLUE 1 LAKE (CI 42090), FRAGRANCE / PARFUM, C12-15 ALCOHOLS,, SILICA, TIN OXIDE, BHT

#RD307 Sunset Road : CETYL ETHYLHEXANOATE, PHYTOSTERYL ISOSTEARYL DIMER DILINOLEATE, HYDROGENATED POLYISOBUTENE, IRON OXIDES (CI 77491),, TRIDECYL TRIMELLITATE, BIS-DIGLYCERYL POLYACYLADIPATE-2, SYNTHETIC WAX, POLYGLYCERYL-2 DIISOSTEARATE, POLYGLYCERYL-2, TRIISOSTEARATE, MICROCRYSTALLINE WAX / CERA MICROCRISTALLINA / CIRE MICROCRISTALLINE, C12-15 ALKYL BENZOATE, RED 7 (CI, 15850), ETHYLENE/PROPYLENE COPOLYMER, DISTEARDIMONIUM HECTORITE, RED 7 LAKE (CI 15850), YELLOW 5 LAKE (CI 19140), FRAGRANCE / PARFUM, C12-15 ALCOHOLS, CALCIUM, ALUMINUM BOROSILICATE, BHT

#BE102 Smoky Salmon : CETYL ETHYLHEXANOATE, NEOPENTYL GLYCOL DIHEPTANOATE, BIS-DIGLYCERYL POLYACYLADIPATE-2, PHYTOSTERYL ISOSTEARYL, DIMER DILINOLEATE, C12-15 ALKYL BENZOATE, TRIDECYL TRIMELLITATE, SYNTHETIC WAX, TITANIUM DIOXIDE (CI 77891),, MICROCRYSTALLINE WAX / CERA MICROCRISTALLINA / CIRE MICROCRISTALLINE, POLYGLYCERYL-2 TRIISOSTEARATE, POLYGLYCERYL-2, DIISOSTEARATE, ETHYLENE/PROPYLENE COPOLYMER, DISTEARDIMONIUM HECTORITE, RED 7 LAKE (CI 15850), RED 6 (CI 15850), SYNTHETIC FLUORPHLOGOPITE, YELLOW 5 LAKE (CI 19140),, CALCIUM ALUMINUM BOROSILICATE, C12-15 ALCOHOLS, BLUE 1 LAKE (CI 42090), FRAGRANCE / PARFUM, IRON OXIDES (CI 77491),, POLYHYDROXYSTEARIC ACID, SILICA, DIISOSTEARYL MALATE, TIN OXIDE, BHT

#PK003 Gentle Pink : CETYL ETHYLHEXANOATE, PHYTOSTERYL ISOSTEARYL DIMER DILINOLEATE, HYDROGENATED POLYISOBUTENE, TRIDECYL TRIMELLITATE, BIS-DIGLYCERYL POLYACYLADIPATE-2, TITANIUM DIOXIDE (CI 77891), SYNTHETIC WAX, POLYGLYCERYL-2 DIISOSTEARATE, POLYGLYCERYL-2 TRIISOSTEARATE, MICROCRYSTALLINE WAX / CERA MICROCRISTALLINA / CIRE MICROCRISTALLINE, C12-15 ALKYL, BENZOATE, RED 7 LAKE (CI 15850), IRON OXIDES (CI 77491), ETHYLENE/PROPYLENE COPOLYMER, DISTEARDIMONIUM HECTORITE, YELLOW 5 LAKE (CI 19140), FRAGRANCE / PARFUM, C12-15 ALCOHOLS, POLYHYDROXYSTEARIC ACID, CALCIUM ALUMINUM BOROSILICATE, LINALOOL, BHT

#PK002 Smog Pink : CETYL ETHYLHEXANOATE, PHYTOSTERYL ISOSTEARYL DIMER DILINOLEATE, HYDROGENATED POLYISOBUTENE, TRIDECYL TRIMELLITATE, BIS-DIGLYCERYL POLYACYLADIPATE-2, SYNTHETIC WAX, TITANIUM DIOXIDE (CI 77891), POLYGLYCERYL-2 DIISOSTEARATE, MICROCRYSTALLINE WAX / CERA MICROCRISTALLINA / CIRE MICROCRISTALLINE, C12-15 ALKYL BENZOATE, POLYGLYCERYL-2 TRIISOSTEARATE, RED 7 LAKE (CI 15850), ETHYLENE/PROPYLENE COPOLYMER, IRON OXIDES (CI 77491), CALCIUM SODIUM BOROSILICATE, DISTEARDIMONIUM HECTORITE, FRAGRANCE / PARFUM, BLUE 1 LAKE (CI 42090), C12-15 ALCOHOLS, POLYHYDROXYSTEARIC ACID, CALCIUM ALUMINUM BOROSILICATE, LINALOOL, TIN OXIDE, BHT

#BR403 Plum Wood : CETYL ETHYLHEXANOATE, PHYTOSTERYL ISOSTEARYL DIMER DILINOLEATE, HYDROGENATED POLYISOBUTENE, TRIDECYL TRIMELLITATE,, BIS-DIGLYCERYL POLYACYLADIPATE-2, SYNTHETIC WAX, IRON OXIDES (CI 77491), POLYGLYCERYL-2 DIISOSTEARATE,, MICROCRYSTALLINE WAX / CERA MICROCRISTALLINA / CIRE MICROCRISTALLINE, C12-15 ALKYL BENZOATE, TITANIUM DIOXIDE (CI 77891),, POLYGLYCERYL-2 TRIISOSTEARATE, DIISOSTEARYL MALATE, DISTEARDIMONIUM HECTORITE, RED 7 (CI 15850), ETHYLENE/PROPYLENE, COPOLYMER, BLUE 1 LAKE (CI 42090), FRAGRANCE / PARFUM, C12-15 ALCOHOLS, ALUMINUM HYDROXIDE, TRIETHOXYCAPRYLYLSILANE, CALCIUM, ALUMINUM BOROSILICATE, BHT

#PK001 Milky Berry : CETYL ETHYLHEXANOATE, PHYTOSTERYL ISOSTEARYL DIMER DILINOLEATE, HYDROGENATED POLYISOBUTENE, TITANIUM DIOXIDE (CI, 77891), TRIDECYL TRIMELLITATE, BIS-DIGLYCERYL POLYACYLADIPATE-2, DIISOSTEARYL MALATE, SYNTHETIC WAX, MICROCRYSTALLINE, WAX / CERA MICROCRISTALLINA / CIRE MICROCRISTALLINE, C12-15 ALKYL BENZOATE, DISTEARDIMONIUM HECTORITE, POLYGLYCERYL-2, TRIISOSTEARATE, ETHYLENE/PROPYLENE COPOLYMER, YELLOW 6 LAKE (CI 15985), RED 7 (CI 15850), IRON OXIDES (CI 77491), POLYGLYCERYL-2 DIISOSTEARATE, ALUMINUM HYDROXIDE, TRIETHOXYCAPRYLYLSILANE,, FRAGRANCE / PARFUM, C12-15 ALCOHOLS, BLUE 1 LAKE (CI 42090), RED 7 LAKE (CI 15850), CALCIUM ALUMINUM BOROSILICATE, BHT

#PK009 Cosmos Road : CETYL ETHYLHEXANOATE, NEOPENTYL GLYCOL DIHEPTANOATE, BIS-DIGLYCERYL POLYACYLADIPATE-2, PHYTOSTERYL ISOSTEARYL DIMER DILINOLEATE, C12-15 ALKYL BENZOATE, SYNTHETIC WAX, TRIDECYL TRIMELLITATE, TITANIUM DIOXIDE (CI 77891), MICROCRYSTALLINE WAX / CERA MICROCRISTALLINA / CIRE MICROCRISTALLINE, POLYGLYCERYL-2 DIISOSTEARATE, POLYGLYCERYL-2, TRIISOSTEARATE, ETHYLENE/PROPYLENE COPOLYMER, RED 7 LAKE (CI 15850), DISTEARDIMONIUM HECTORITE, FRAGRANCE / PARFUM, C12-15 ALCOHOLS, POLYHYDROXYSTEARIC ACID, YELLOW 5 LAKE (CI 19140), CALCIUM ALUMINUM BOROSILICATE, LINALOOL, BHT

#PK008 So Cupid : PHYTOSTERYL ISOSTEARYL DIMER DILINOLEATE, CETYL ETHYLHEXANOATE, POLYGLYCERYL-2 TRIISOSTEARATE, HYDROGENATED, POLYISOBUTENE, BIS-DIGLYCERYL POLYACYLADIPATE-2, TRIDECYL TRIMELLITATE, SYNTHETIC WAX, RED 28 LAKE (CI 45410), MICROCRYSTALLINE WAX / CERA MICROCRISTALLINA / CIRE MICROCRISTALLINE, C12-15 ALKYL BENZOATE, TITANIUM DIOXIDE (CI 77891), POLYGLYCERYL-2 DIISOSTEARATE, ETHYLENE/PROPYLENE COPOLYMER, RED 7 LAKE (CI 15850), DISTEARDIMONIUM HECTORITE, ALUMINA, FRAGRANCE / PARFUM, YELLOW 5 LAKE (CI 19140), C12-15 ALCOHOLS, POLYHYDROXYSTEARIC, ACID, CALCIUM ALUMINUM BOROSILICATE, LINALOOL, BHT

#PK010 Lady Go Go : CETYL ETHYLHEXANOATE, PHYTOSTERYL ISOSTEARYL DIMER DILINOLEATE, HYDROGENATED POLYISOBUTENE, POLYGLYCERYL-2, TRIISOSTEARATE, TRIDECYL TRIMELLITATE, BIS-DIGLYCERYL POLYACYLADIPATE-2, SYNTHETIC WAX, MICROCRYSTALLINE WAX / CERA, MICROCRISTALLINA / CIRE MICROCRISTALLINE, C12-15 ALKYL BENZOATE, TITANIUM DIOXIDE (CI 77891), RED 28 LAKE (CI 45410), POLYGLYCERYL-2 DIISOSTEARATE, ALUMINA, ETHYLENE/PROPYLENE COPOLYMER, MICA, DISTEARDIMONIUM HECTORITE, RED 7 (CI 15850), RED 7 LAKE (CI 15850), IRON OXIDES (CI 77491), FRAGRANCE / PARFUM, C12-15, ALCOHOLS, BLUE 1 LAKE (CI 42090), POLYHYDROXYSTEARIC ACID, CALCIUM ALUMINUM BOROSILICATE, TIN OXIDE, LINALOOL, BHT

#PK011 Beet Power : CETYL ETHYLHEXANOATE, PHYTOSTERYL ISOSTEARYL DIMER DILINOLEATE, HYDROGENATED POLYISOBUTENE, POLYGLYCERYL-2, TRIISOSTEARATE, TRIDECYL TRIMELLITATE, BIS-DIGLYCERYL POLYACYLADIPATE-2, SYNTHETIC WAX, MICROCRYSTALLINE WAX / CERA, MICROCRISTALLINA / CIRE MICROCRISTALLINE, C12-15 ALKYL BENZOATE, RED 7 LAKE (CI 15850), TITANIUM DIOXIDE (CI 77891),, DIISOSTEARYL MALATE, RED 28 LAKE (CI 45410), ETHYLENE/PROPYLENE COPOLYMER, DISTEARDIMONIUM HECTORITE, IRON OXIDES (CI 77491), POLYGLYCERYL-2 DIISOSTEARATE, FRAGRANCE / PARFUM, C12-15 ALCOHOLS,, BLUE 1 LAKE (CI 42090), ALUMINUM HYDROXIDE, TRIETHOXYCAPRYLYLSILANE, CALCIUM ALUMINUM BOROSILICATE, BHT

#RD306 Cold Blood : CETYL ETHYLHEXANOATE, PHYTOSTERYL ISOSTEARYL DIMER DILINOLEATE, HYDROGENATED POLYISOBUTENE, TRIDECYL TRIMELLITATE, POLYGLYCERYL-2 TRIISOSTEARATE, BIS-DIGLYCERYL POLYACYLADIPATE-2, RED 7 LAKE (CI 15850), SYNTHETIC WAX, MICROCRYSTALLINE, WAX / CERA MICROCRISTALLINA / CIRE MICROCRISTALLINE, C12-15 ALKYL BENZOATE, IRON OXIDES (CI 77491), POLYGLYCERYL-2, DIISOSTEARATE, ETHYLENE/PROPYLENE COPOLYMER, DISTEARDIMONIUM HECTORITE, FRAGRANCE / PARFUM, C12-15 ALCOHOLS, BLUE 1 LAKE (CI 42090), CALCIUM ALUMINUM BOROSILICATE,, LINALOOL, BHT

#RD303 Apple-ogize : POLYGLYCERYL-2 TRIISOSTEARATE, CETYL ETHYLHEXANOATE, PHYTOSTERYL ISOSTEARYL DIMER DILINOLEATE, HYDROGENATEDPOLYISOBUTENE, TRIDECYL TRIMELLITATE, BIS-DIGLYCERYL POLYACYLADIPATE-2, SYNTHETIC WAX, MICROCRYSTALLINE WAX / CERA, MICROCRISTALLINA / CIRE MICROCRISTALLINE, C12-15 ALKYL BENZOATE, RED 7 LAKE (CI 15850), RED 7 (CI 15850), YELLOW 6 LAKE (CI 15985), ETHYLENE/PROPYLENE COPOLYMER, DISTEARDIMONIUM HECTORITE, RED 6 (CI 15850), RED 28 LAKE (CI 45410), FRAGRANCE / PARFUM, C12-15 ALCOHOLS, CALCIUM, ALUMINUM BOROSILICATE, LINALOOL, BHT

#RD305 Salvia Ruby : POLYGLYCERYL-2 TRIISOSTEARATE, CETYL ETHYLHEXANOATE, PHYTOSTERYL ISOSTEARYL DIMER DILINOLEATE, HYDROGENATED POLYISOBUTENE, TRIDECYL TRIMELLITATE, RED 7 LAKE (CI 15850), BIS-DIGLYCERYL POLYACYLADIPATE-2, SYNTHETIC WAX, MICROCRYSTALLINE WAX / CERA MICROCRISTALLINA / CIRE MICROCRISTALLINE, C12-15 ALKYL BENZOATE, RED 7 (CI 15850), ETHYLENE/PROPYLENE COPOLYMER, TITANIUM DIOXIDE (CI 77891), DISTEARDIMONIUM HECTORITE, POLYGLYCERYL-2 DIISOSTEARATE, POLYHYDROXYSTEARIC ACID, RED 6 (CI 15850), FRAGRANCE / PARFUM, ETHYLHEXYL PALMITATE, LECITHIN, ISOSTEARIC ACID, ISOPROPYL PALMITATE, C12-15 ALCOHOLS, POLYGLYCERYL-3 POLYRICINOLEATE, CALCIUM ALUMINUM BOROSILICATE, LINALOOL, BHT

#RD304 Cherish Me : POLYGLYCERYL-2 TRIISOSTEARATE, CETYL ETHYLHEXANOATE, PHYTOSTERYL ISOSTEARYL DIMER DILINOLEATE, HYDROGENATED POLYISOBUTENE, TRIDECYL TRIMELLITATE, BIS-DIGLYCERYL POLYACYLADIPATE-2, SYNTHETIC WAX, MICROCRYSTALLINE WAX / CERA, MICROCRISTALLINA / CIRE MICROCRISTALLINE, C12-15 ALKYL BENZOATE, RED 28 LAKE (CI 45410), RED 7 LAKE (CI 15850), RED 22 LAKE, (CI 45380), ETHYLENE/PROPYLENE COPOLYMER, DISTEARDIMONIUM HECTORITE, RED 6 (CI 15850), TITANIUM DIOXIDE (CI 77891), POLYGLYCERYL-2 DIISOSTEARATE, FRAGRANCE /, PARFUM, C12-15 ALCOHOLS, CALCIUM ALUMINUM BOROSILICATE, POLYHYDROXYSTEARIC ACID, LINALOOL, BHT

#PK027 Fall in Pink : CETYL ETHYLHEXANOATE, PHYTOSTERYL ISOSTEARYL DIMER DILINOLEATE, HYDROGENATED POLYISOBUTENE, TRIDECYL TRIMELLITATE, BIS-DIGLYCERYL POLYACYLADIPATE-2, POLYGLYCERYL-2 TRIISOSTEARATE, SYNTHETIC WAX, MICROCRYSTALLINE WAX / CERA MICROCRISTALLINA / CIRE MICROCRISTALLINE, C12-15 ALKYL BENZOATE, TITANIUM DIOXIDE (CI 77891), POLYGLYCERYL-2 DIISOSTEARATE, RED 22 LAKE (CI 45380), RED 7 LAKE (CI 15850), RED 6 (CI 15850), POLYHYDROXYSTEARIC ACID, ETHYLENE/PROPYLENE COPOLYMER, DISTEARDIMONIUM HECTORITE, ALUMINA, ETHYLHEXYL PALMITATE, LECITHIN, ISOSTEARIC ACID, ISOPROPYL PALMITATE, YELLOW 5 LAKE (CI 19140), POLYGLYCERYL-3 POLYRICINOLEATE, FRAGRANCE / PARFUM, C12-15 ALCOHOLS, CALCIUM ALUMINUM BOROSILICATE, LINALOOL, BHT

#PK006 Sweet Soda : CETYL ETHYLHEXANOATE, PHYTOSTERYL ISOSTEARYL DIMER DILINOLEATE, POLYGLYCERYL-2 TRIISOSTEARATE, HYDROGENATED, POLYISOBUTENE, TRIDECYL TRIMELLITATE, BIS-DIGLYCERYL POLYACYLADIPATE-2, SYNTHETIC WAX, RED 22 LAKE (CI 45380), MICROCRYSTALLINE WAX / CERA MICROCRISTALLINA / CIRE MICROCRISTALLINE, C12-15 ALKYL BENZOATE, TITANIUM DIOXIDE (CI 77891), ETHYLENE/PROPYLENE COPOLYMER, POLYGLYCERYL-2 DIISOSTEARATE, DISTEARDIMONIUM HECTORITE, YELLOW 6 LAKE (CI 15985), ALUMINA, RED 7 LAKE (CI 15850), FRAGRANCE / PARFUM, C12-15 ALCOHOLS,, RED 28 LAKE (CI 45410), POLYHYDROXYSTEARIC ACID, CALCIUM ALUMINUM BOROSILICATE, LINALOOL, BHT

#PK004 Jewel Play : CETYL ETHYLHEXANOATE, PHYTOSTERYL ISOSTEARYL DIMER DILINOLEATE, HYDROGENATED POLYISOBUTENE, TRIDECYL TRIMELLITATE,, BIS-DIGLYCERYL POLYACYLADIPATE-2, SYNTHETIC WAX, POLYGLYCERYL-2 TRIISOSTEARATE, MICROCRYSTALLINE WAX / CERA, MICROCRISTALLINA / CIRE MICROCRISTALLINE, C12-15 ALKYL BENZOATE, TITANIUM DIOXIDE (CI 77891), MICA, YELLOW 6 LAKE (CI, 15985), POLYGLYCERYL-2 DIISOSTEARATE, ETHYLENE/PROPYLENE COPOLYMER, DISTEARDIMONIUM HECTORITE, RED 28 LAKE (CI 45410),, RED 7 LAKE (CI 15850), CALCIUM SODIUM BOROSILICATE, IRON OXIDES (CI 77491), FRAGRANCE / PARFUM, C12-15 ALCOHOLS, BLUE 1 LAKE (CI 42090),, POLYHYDROXYSTEARIC ACID, CALCIUM ALUMINUM BOROSILICATE, TIN OXIDE, BHT

#PK007 Flamingo Land : CETYL ETHYLHEXANOATE, NEOPENTYL GLYCOL DIHEPTANOATE, BIS-DIGLYCERYL POLYACYLADIPATE-2, PHYTOSTERYL ISOSTEARYL DIMER DILINOLEATE, C12-15 ALKYL BENZOATE, TRIDECYL TRIMELLITATE, POLYGLYCERYL-2 TRIISOSTEARATE, SYNTHETIC WAX, MICROCRYSTALLINE WAX / CERA MICROCRISTALLINA / CIRE MICROCRISTALLINE, RED 28 LAKE (CI 45410), TITANIUM DIOXIDE (CI 77891), ETHYLENE/PROPYLENE COPOLYMER, POLYGLYCERYL-2 DIISOSTEARATE, DISTEARDIMONIUM HECTORITE, RED 6 (CI 15850), FRAGRANCE / PARFUM, C12-15 ALCOHOLS, RED 7 LAKE (CI 15850), POLYHYDROXYSTEARIC, ACID, CALCIUM ALUMINUM BOROSILICATE, LINALOOL, BHT

#OR201 Something Japan : CETYL ETHYLHEXANOATE, PHYTOSTERYL ISOSTEARYL DIMER DILINOLEATE, HYDROGENATED POLYISOBUTENE, TITANIUM DIOXIDE (CI 77891), BIS-DIGLYCERYL POLYACYLADIPATE-2, TRIDECYL TRIMELLITATE, POLYGLYCERYL-2 DIISOSTEARATE, SYNTHETIC WAX, MICROCRYSTALLINE WAX / CERA MICROCRISTALLINA / CIRE MICROCRISTALLINE, C12-15 ALKYL BENZOATE, POLYGLYCERYL-2, TRIISOSTEARATE, ETHYLENE/PROPYLENE COPOLYMER, RED 6 (CI 15850), RED 7 (CI 15850), DISTEARDIMONIUM HECTORITE, IRON OXIDES (CI 77491), RED 22 LAKE (CI 45380), FRAGRANCE / PARFUM, POLYHYDROXYSTEARIC ACID, C12-15 ALCOHOLS, CALCIUM ALUMINUM BOROSILICATE, LINALOOL, BHT

#OR207 Coral Light : CETYL ETHYLHEXANOATE, PHYTOSTERYL ISOSTEARYL DIMER DILINOLEATE, HYDROGENATED POLYISOBUTENE, POLYGLYCERYL-2, TRIISOSTEARATE, TRIDECYL TRIMELLITATE, BIS-DIGLYCERYL POLYACYLADIPATE-2, SYNTHETIC WAX, TITANIUM DIOXIDE (CI 77891), MICROCRYSTALLINE WAX / CERA MICROCRISTALLINA / CIRE MICROCRISTALLINE, C12-15 ALKYL BENZOATE, POLYGLYCERYL-2, DIISOSTEARATE, RED 28 LAKE (CI 45410), RED 6 (CI 15850), ETHYLENE/PROPYLENE COPOLYMER, DISTEARDIMONIUM HECTORITE, FRAGRANCE / PARFUM, C12-15 ALCOHOLS, POLYHYDROXYSTEARIC ACID, CALCIUM ALUMINUM, BOROSILICATE, LINALOOL, BHT

#OR203 Vintage Way : CETYL ETHYLHEXANOATE, PHYTOSTERYL ISOSTEARYL DIMER DILINOLEATE, HYDROGENATED POLYISOBUTENE, TRIDECYL TRIMELLITATE,, BIS-DIGLYCERYL POLYACYLADIPATE-2, POLYGLYCERYL-2 TRIISOSTEARATE, SYNTHETIC WAX, TITANIUM DIOXIDE (CI 77891),, POLYGLYCERYL-2 DIISOSTEARATE, MICROCRYSTALLINE WAX / CERA MICROCRISTALLINA / CIRE MICROCRISTALLINE, C12-15 ALKYL, BENZOATE, RED 7 LAKE (CI 15850), YELLOW 5 LAKE (CI 19140), ETHYLENE/PROPYLENE COPOLYMER, DISTEARDIMONIUM HECTORITE, IRON OXIDES (CI 77491), RED 22 LAKE (CI 45380), FRAGRANCE / PARFUM, DIISOSTEARYL MALATE, C12-, 15 ALCOHOLS, IRON OXIDES (CI 77499), POLYHYDROXYSTEARIC ACID, CALCIUM ALUMINUM BOROSILICATE, TRIETHOXYCAPRYLYLSILANE,BHT

#OR202 Juicy Juice : CETYL ETHYLHEXANOATE, NEOPENTYL GLYCOL DIHEPTANOATE, BIS-DIGLYCERYL POLYACYLADIPATE-2, PHYTOSTERYL ISOSTEARYL DIMER DILINOLEATE, C12-15 ALKYL BENZOATE, TRIDECYL TRIMELLITATE, SYNTHETIC WAX, MICROCRYSTALLINE WAX / CERA, MICROCRISTALLINA / CIRE MICROCRISTALLINE, POLYGLYCERYL-2 TRIISOSTEARATE, TITANIUM DIOXIDE (CI 77891), POLYGLYCERYL-2, DIISOSTEARATE, ETHYLENE/PROPYLENE COPOLYMER, YELLOW 6 LAKE (CI 15985), RED 28 LAKE (CI 45410), DISTEARDIMONIUM HECTORITE, IRON OXIDES (CI 77491), DIISOSTEARYL MALATE, FRAGRANCE / PARFUM, C12-15 ALCOHOLS, RED 7 LAKE, (CI 15850), POLYHYDROXYSTEARIC ACID, CALCIUM ALUMINUM BOROSILICATE, LINALOOL, BHT

#BE101 Dancing China : CETYL ETHYLHEXANOATE, PHYTOSTERYL ISOSTEARYL DIMER DILINOLEATE, HYDROGENATED POLYISOBUTENE, TRIDECYL TRIMELLITATE, BIS-DIGLYCERYL POLYACYLADIPATE-2, TITANIUM DIOXIDE (CI 77891), SYNTHETIC WAX, POLYGLYCERYL-2 DIISOSTEARATE, MICROCRYSTALLINE WAX / CERA MICROCRISTALLINA / CIRE MICROCRISTALLINE, C12-15 ALKYL BENZOATE, IRON OXIDES (CI 77491), DIISOSTEARYL MALATE, POLYGLYCERYL-2 TRIISOSTEARATE, ETHYLENE/PROPYLENE COPOLYMER, RED 6 (CI 15850), DISTEARDIMONIUM HECTORITE, RED 7 (CI 15850), FRAGRANCE / PARFUM, C12-15 ALCOHOLS, POLYHYDROXYSTEARIC ACID, BLUE 1 LAKE (CI 42090), CALCIUM ALUMINUM BOROSILICATE, LINALOOL, BHT

#PK012 Rose Mocha : CETYL ETHYLHEXANOATE, PHYTOSTERYL ISOSTEARYL DIMER DILINOLEATE, HYDROGENATED POLYISOBUTENE, TRIDECYL TRIMELLITATE,, BIS-DIGLYCERYL POLYACYLADIPATE-2, POLYGLYCERYL-2 DIISOSTEARATE, TITANIUM DIOXIDE (CI 77891), SYNTHETIC WAX,, MICROCRYSTALLINE WAX / CERA MICROCRISTALLINA / CIRE MICROCRISTALLINE, C12-15 ALKYL BENZOATE, POLYGLYCERYL-2, TRIISOSTEARATE, IRON OXIDES (CI 77491), RED 7 LAKE (CI 15850), ETHYLENE/PROPYLENE COPOLYMER, DISTEARDIMONIUM HECTORITE, YELLOW 6 LAKE (CI 15985), RED 6 (CI 15850), FRAGRANCE / PARFUM, C12-15 ALCOHOLS,, POLYHYDROXYSTEARIC ACID, BLUE 1 LAKE (CI 42090), CALCIUM ALUMINUM BOROSILICATE, BHT

#OR207 Maple Chili : CETYL ETHYLHEXANOATE, PHYTOSTERYL ISOSTEARYL DIMER DILINOLEATE, HYDROGENATED POLYISOBUTENE, POLYGLYCERYL-2, TRIISOSTEARATE, TRID

#RD308 Pepper Chili : CETYL ETHYLHEXANOATE, POLYGLYCERYL-2 TRIISOSTEARATE, PHYTOSTERYL ISOSTEARYL DIMER DILINOLEATE, HYDROGENATED, POLYISOBUTENE, TRID

 

Weight (g)
50.000000
Size
3.5 g